Time for some of that emo slice-a-life stuff. That right there is a real-life document of my afternoon. When I started working (or, lately, "working") at home I really didn't anticipate being driven so crazy by staying at home all the time, since I am basically a recluse. So for the past while I've taken to going to coffeeshops to get out of the stupid house (and sometimes have tea – but screw the stupid theme) and honestly it's something I never imagined I would be doing. As a matter of fact, if you took my 19-year-old self and told him that sort of thing was in his future, well, his reaction… refer to figure 2.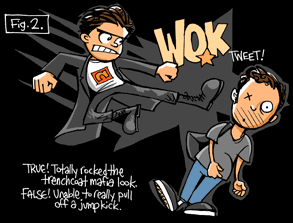 The result is decisive. This knowledge is the essence of existential exasperation, a new kind of exasperation to add to the panoply of exasperations life has to offer. Though. In my current self's defense (this is really sounding schizophrenic. Next week I will treat you to a new mental disorder. I have so many to choose from) – in defense of my current self, I'm not real sure what my 19-year-old self thought life in the future was going to be like. Can't really remember. Do remember senior year of college I was telling people I was probably gonna wind up working a day job. Oddly that hasn't worked out. But I was smart enough – I'm sure I had a couple of scenarios in mind. It went pretty much like this.
I think this covers all the essentials. Maybe a little starry-eyed. I couldn't really fit the urn that contained the remains of the publishing industry, but that was also an important part. However, I did think things through. I always knew there would be another option.
You see I was never entirely unrealistic.